I wrote this page in September of 2020, after doing an online search about Deborah. There was a paucity of information. It's as if nobody cared. But I do, thus this page.

I found this barebones obituary: https://www.echovita.com/us/obituaries/tn/cedar-hill/deborah-holt-restey-9964088

But no photos there. Despite a 20+ year friendship with her, I did not have any photos of her either. I found the one below online. It was taken in her home, and is not a professional portrait. What you don't see here is the woman of stunning beauty she actually was. I also added this photo to the online obit and wrote the lone condolence. It's sad that someone so rich in compassion is not more celebrated after her passing.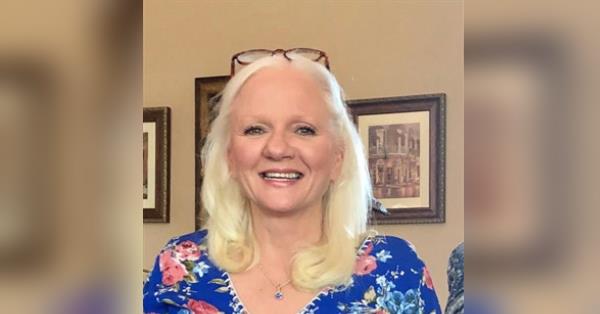 Basic Obit
Deborah was born on September 15, 1961 in West Palm Beach, FL and passed away on Sunday, November 10, 2019. She had pulmonary fibrosis. She is survived by her husband (John Restey), her previous husband of 25+ years (Bob Holt), her son Andrew, and her twins Sam (son) and Becca (daughter).
Deborah had been adopted, and her maiden name was Dobosky. She loved her adoptive father and kept a photo of him in her living room. Only by coincidence, he and Bob Holt had a similar appearance.
Deborah J Holt: "Deborah" means "bee" and "Jo" means "she knows".
My Friend Forever
Deborah and I first met in 1995. Her husband Bob and I worked at the Emerson Motor plant in Humboldt, TN. I was Bob's supervisor. Bob was a mechanical engineer who supervised about half the plant's maintenance team of electricians, mechanics, and electronics technicians. I could not have asked for a better right-hand man. I invited Bob to visit me at home in Jackson, TN and bring his wife if she wanted to come. When they came through my door, I was immediately struck at what an outstanding beauty Deborah was.
As time moved forward, I would also be impressed with her outstanding intelligence, how articulate she was, her ability to balance so many things and do everything well, her great sense of humor, her wide breadth of knowledge on so many topics (and depth on many, too), her impeccable house keeping, and many other things about her that were extraordinary.
For example, she was a skilled carpenter. At the Adams, TN home she built a massive, multi-story deck on the side of the house and even made outdoor furniture for it. And she did a high quality job of it.
Once on the phone, Bob told me something Deborah had done that impressed him. I said, "Bob, I think you got the better end of the deal when you married her." He enthusiastically agreed.
Over the next two decades, I would watch Andrew, Sam, and Becca change from little kids to outstanding adults. The way these three turned out, they seemed to have the best parts of their parents. Bob and Deborah would tell me many times over the years something impressive about one kid or another. In TX, there's a saying, "If it's true, it ain't braggin'". Any parent with kids like these deserves bragging rights, anyhow.
In early 1996, I got laid off from the Emerson plant during one of their quarterly fiscal emergencies and as a means to protect my corrupt boss from his blunders (he blamed them all on me). That was on a Friday, I started a new job the following Monday. Bob and I kept in touch, and I visited their home in Bradford, TN a few times before moving to Merriam, KS in late 1996.
Bob chafed while working under my old boss, finding that man's lack of integrity (e.g., forging QA records and lying about nearly everything) repugnant. Bob lost his job at Emerson, and got a job at Carrier in Clarksville, TN. So the Holt family moved to Adams in 1998. That's interesting because I had moved from Greenbrier (near there) to take the job at Emerson. Not long after they moved to Adams, Deborah began working on her BSN at Austin Peay State University in Clarksville. We had many consultations by phone, in which I answered questions or made suggestions to help her with her studies. She had known from earlier conversations that when I was married my wife went through this same process to earn her BSN. So I was an experienced BSN tutor already.
With her BSN in hand, Deborah got a job in Springfield, TN; this is where I worked before going to the job with Emerson. I made a business trip to Nashville in the late 1990s; Bob picked me up at the Grand Ole Opry Hotel and drove me to Adams and then back that night. That's a lot of windshield time. I had a lovely evening with the Holts, mostly playing with the kids. That was the last time I would ever see Bob, though we spoke on the phone many times after that.
She and Bob had a cabin property in southern Illinois, and Deborah's cell phone had the area code (618) for where that cabin was located. They lived a fairly short drive from there. I am originally from the northern end of Illinois, a long drive from their home in Adams, TN.
I would call Bob on their landline and we'd talk for a while, then he'd put Deborah on the phone. Sometimes she would call me on her cell. We nearly always spoke on our respective birthdays, often without Bob's involvement. I would call Bob on his birthday, and after a few minutes he'd hand the phone to Deborah. When in his late 20s, Andrew called me a couple of times to discuss his career quandaries. He was extremely bright kid and principled, I was flattered that he wanted my views and mentoring.
Deborah was generous in many ways. And she was a true friend. At one point in my life, I had a severe financial situation due to an illegal and baseless attack by the IRS (ultimately resolved in my favor). Deborah offered to send me money, and I said no that would not be necessary and please don't do that. The offer sure made me feel better, as in "how sweet for someone to care that much". A few days later, a check for $200 arrived in my mailbox. It actually was just enough to get me through the low spot. Had she not sent it, I would have had to ask others for some kind of short-term loan. She spared me that unpleasant experience.
There was an odd thing about our birthdays. Deborah was born in 1961, I was born in 1960 in the same month. Her birthday is four days before mine. She used to say we were the same age, even though that was true for only 4 days a year. I thought this was cute, and never corrected her on this point.
As noted earlier, Deborah and I called each other on our birthdays (in September). In 2014, I was unable to reach her on her birthday and then for several days after. Finally, she called me shortly after my birthday and said Bob had left her. This was very traumatic for her. Something we would say to each other was, "Friends forever," and I said it often during this time of great stress for her. We spoke every day, often more than once. We also Skyped, e-mailed, and texted. I had never bothered to text anyone before this, and did not even have a smart phone at the time. But there's an e-mail way to do it, and that's what I used at my end. She was my only texting buddy for nearly a year.
In November, Deborah broached the idea of my moving back to TN and moving in with her. I said I liked the idea, but the timing was not good. I had some things to work through, and she also needed to be able to make that decision from a position where she was more emotionally recovered.
In December of that year, Deborah asked me to come visit her. I had a house-sitting / cat-sitting obligation with a neighbor, who was going out of the country for three weeks. I told her this and said I'd need to defer until January. She took that as a no. She got angry with me. She told me she was lonely and she needed "someone here, with me." I said I understood, just give me time. She didn't. A local man, who was married with a dying wife, found out Deborah was divorced so asked her out. I told Deborah that was bad news. They dated a few times, she found out the hard way he was a rat.
But there was a noticeable chill between us. I am sure she felt rejected by someone she trusted, a replay of her feelings following Bob's abandonment. She sought a life partner, and distanced herself from me.
I visited Deborah in April of 2015 in response to an invitation from her to do so. That was the last time I ever saw her. I am glad I had that opportunity to spend some time with her, but something was really "off". Just before leaving to come home, I asked her if we were still "friends forever", and she hesitated before nodding yes. We never spoke again after that visit; she kept communication to texts and e-mails. I think she wanted to get on with her life with a romantic interest who found me to be a threat. I wasn't involved in her life once this new part of it began.
Oddly enough, Deborah kept something of mine. I bake these delicious wheat-free, sugar-free, zero processed food cookies. I put some in a resealable plastic tub so we could share them. She took one bite and with eyes wide said, "Wow! These are fantastic." But instead of putting those into her own container and giving mine back, she put my container of cookies in the refrigerator. It's part of a set, so a missing piece is kind of a big deal. She kept it anyhow, and I think it was a way for her to have a "stealth" reminder of me readily available.
During my visit, she said something unsettling. She told me, "You will live a long time. I won't." She didn't explain that, but I think she was at that time aware of an illness yet to be diagnosed.
After that visit, we'd go through off and on periods of communication. Sometimes, I would just text "Positive Energy!" and she would write back that message came during a bad moment and really helped.
Like any human being, Deborah had her faults. Like most high achievers, she tended to be critical of others. Her kids felt this, and there were some long periods of friction with one or another over the years. But all three kids turned out to be way above average. I believe along with the critical aspect there was much love and support, plus she set a good example for excellence.
Andrew became an engineer like his stepfather. Andrew and I once had a long discussion in which it was clear to me Andrew had very high standards. Becca became a nurse like her mother, but she and I never spoke about her career. Her twin brother Sam went his own way, finding himself in what he loves to do.
Deborah, however, seemed to have spiraled into depression after my December "rejection". She often spoke of living a short life, as if she might take her own. This wasn't the Deborah I had known. She had never recovered from the events of 2014 and some things she discovered afterwards about those events. In 2018 things seemed to look up for Deborah emotionally again, with the birth of Becca's boy. That's when she renewed contact with me after a fairly long silence. She wrote some messages that were very uplifting to me, as if she wanted to generate as much positive energy as possible.
The last I heard from her was a text message she sent from the ICU while awaiting her lung transplant. That was on the 8th of November, the Friday before the Sunday on which she died.
My memories of this remarkable woman will always be good memories. The world was better for having her in it, and her passing is a loss. She was often what many would consider "the best of us." As her forever friend, I will miss her until I too pass away.
===
Update
I found this after more searching.
https://smokeybarn.com/in-loving-memory-obituaries-of-the-week-november-19-2019/
Obituary for Deborah Holt-Restey

Deborah Holt-Restey, age 58, of Cedar Hill, passed away Sunday, November 10, 2019 at Vanderbilt Medical Center in Nashville.

A Graveside Service was held Wednesday, November 13, 2019 at 1pm in the St. Michaelís Catholic Church Cemetery with Father Anthony Lopez as Celebrant. Burial followed with Andrew Heffner, Samuel Holt, John Restey, Marco Martinez, Timothy Hawthorne and Richard Anderson serving as pallbearers.

No visitation was held prior to the Graveside Service.

Mrs. Holt-Restey was born September 15, 1961 in West Palm Beach, FL to Mr. Harry Anderson of AL and Mrs. Judith Dunfee Krause of TN. She worked as a Registered Nurse at NorthCrest Medical Center, was an artist and was a writer. She loved crafting and working with her hands and reading her Bible.

In addition to her parents Mrs. Holt-Restey is survived by her husband, John G. Restey; children, Andrew Heffner of CA, Rebeccah (Timothy) Hawthorne of GA and Samuel (Chelsea) Holt of FL; brother, Richard Anderson of NC; sister, Renee Johnson of TN; and grandchildren, Annalise Heffner, Adilynn Heffner and Lochlan Hawthorne.

If so desired memorial contributions may be made to the Idiopathic Pulmonary Fibrosis (IPF) Foundation. Any donations may be sent in c/o Austin & Bell.

Austin & Bell Funeral Home in Springfield is in charge of these arrangements.